Written By
---
Alan Ayckbourn
Where and When
---
23rd – 25th February 2023 @ The Tivoli Theatre, Wimborne
The Plot
---
Bedroom Farce takes place in the bedrooms of three married couples during one, long night, Ernest and Delia are celebrating their wedding anniversary after many, many years of marriage; Malcolm and Kate are gearing up to host a party in their new 'love nest'; while Nick and Jan are trying to cope with Nick's recent back injury which has left him stuck in bed while Jan goes to Malcolm and Kate's party without him. Each couple's relationship has its problems but they are all tested when Trevor and Susannah's dysfunctional, miserable marital issues are inflicted upon them….in their own bedrooms! Leaving a wave of destruction behind them as they lament on the state of their marriage, Trevor and Susannah ruffle beds, tempers, and routines to try and find their way back to each other. Hilarious, touching, and fast paced, Bedroom Farce is one Ayckbourn's funniest plays.
Cast
---
Ernest – Tim Fearon
Delia – Judy Garrett
Nick – Colin Pile
Jan – Julie Sissons
Malcolm – James Renwick
Kate – Beth Morris
Trevor – Richard Scotson
Susannah -Rosie Nye
Creative Team
---
Directors – Michelle Barter & Suzanne Viney
Stage Manager – Tracey Nicholls
Deputy Stage Manager – Kelly Webb
Sound – David Beddard-Banks
Properties – Dee Hawes
Costumes and Properties – Heather Birchenough
Book Cover – Jan Stevenson
Publicity and Programme – Richard Neal
For the Tivoli Theatre
Technical and Production Manager – Kyle Best
Head of Sound – Chandler Whitelock
ASM – Fabien Barrow-Blanken
Gallery
---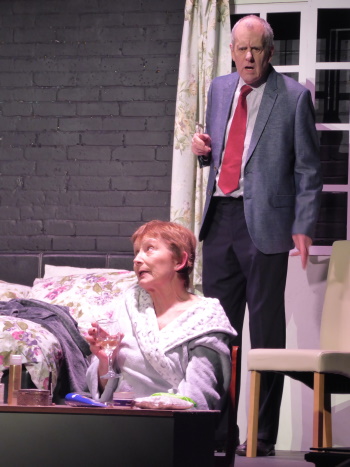 Reviews
---
Being a huge musical lover, I very rarely go along to many plays so when the opportunity arose for me to review Bedroom Farce, I was looking forward to something different and it was certainly that.
This play, written by Alan Ayckbourn and directed by Michelle Barter and Suzanne Vinney, is set in the modern day and takes place in the bedrooms of three different houses.
The story revolves around Trevor and Susannah, whose marriage is already on the edge, and are both invited to a house warming party. When they arrive, Trevor's ex-girlfriend Jan, played by Julie Sissons with lots of sass mixed in with the perfect amount of emotion, is also there and things take an awkward turn!
The hosts of the party Malcolm and Kate, played by James Renwick and Beth Morris, are both great performers and James definitely came into role more as the play went on. Beth portrays the role of Kate with confidence. The scene in the bedroom of their house when Trevor first arrives is one of the highlights.
Back at home is Jan's boring husband Nick, played by Colin Pile, who couldn't attend the party due to a pulled muscle in his back and spent the entire play in bed, complaining!
In another house are Trevor's Mum and Dad, Earnest and Delia, played by Tim Fearon and Judy Garrett, this was the perfect pairing. Judy played the role of Delia with true emotion and sincerity but was also firm with her over worrying and doddery husband Earnest.
Tim Fearon was, in one word, incredible! With excellent comic timing he definitely stole the show.
Trevor and Susannah are played by Richard Scotson and Rosie Nye, both play their roles with the right amount of feeling needed to show a couple on the verge of a divorce.
The play was hilariously funny, the sets were simple but appealing and the lighting was on point throughout the entire play.
---
I can't remember the last time I laughed so much. This farce is seriously funny – or at least this talented company's version of it.
If you think that because this Alan Ayckbourn farce was written in the 1970s it must be dated, this production will make you think again.
The action switches between three bedroom scenes, and the interaction between four couples.
At the heart of the story is the fractious relationship between Susannah (Rosie Nye) and Trevor (Richard Scotson) which impacts on the other three couples.
Ernest and Delia are Trevor's parents who are worried about the parlous state of their son's marriage. Tim Fearon is delightfully vague yet endearing as Ernest who worries about everything, whilst as always Judy Garrett gets under the skin of her character as his bossy wife.
A painful back injury causes Colin Pile's character Nick, to spend all his time in bed, except when he ends up on the floor – a hilarious sequence – and his slightly dour characterisation contrasts deliciously with his lively wife Jan played with lots of oomph by Julie Sissons.
Every scene has multiple humourous moments, none more so than those between Malcolm and Kate who are having a party – to be attended by the troubled Trevor, Susannah and Jan.
Beth Morris shows exceptional talent as Kate and her scenes with James Renwick, as the joker who can border on the obsessed Malcolm are some of the funniest in the play.
Richard Scotson encapsulates the less than perfect and morose Trevor, whilst Rosie Nye gets the chance for high tension and neurosis as Susannah.
A huge amount of rehearsal must have gone into this production as the action requires split second timing on and off beds!
Directed by Michelle Barter and Suzanne Viney this is amateur dramatics at its very, very best.
Programme
---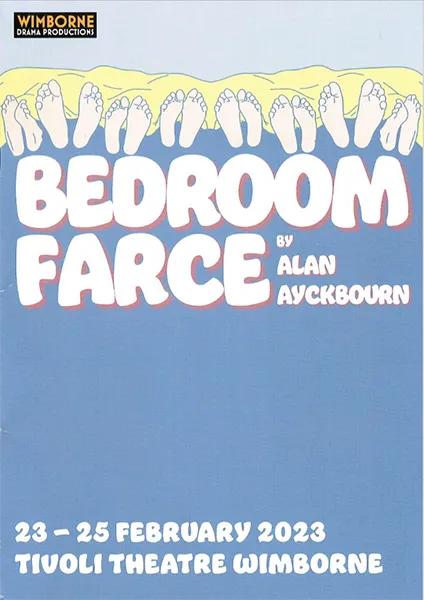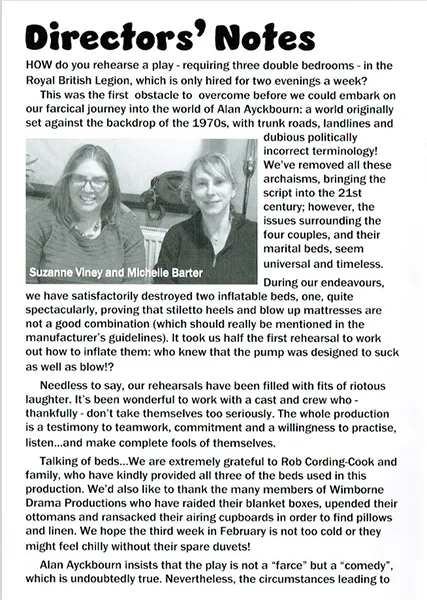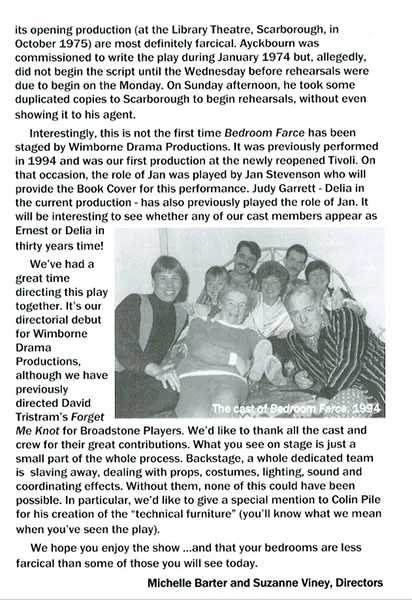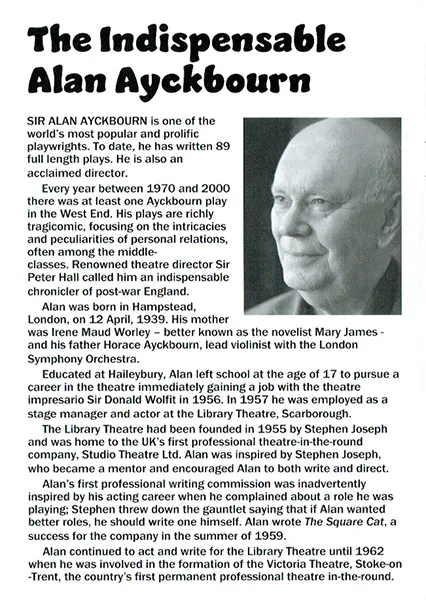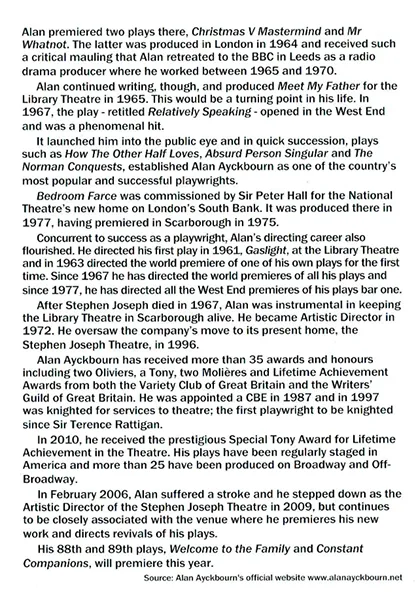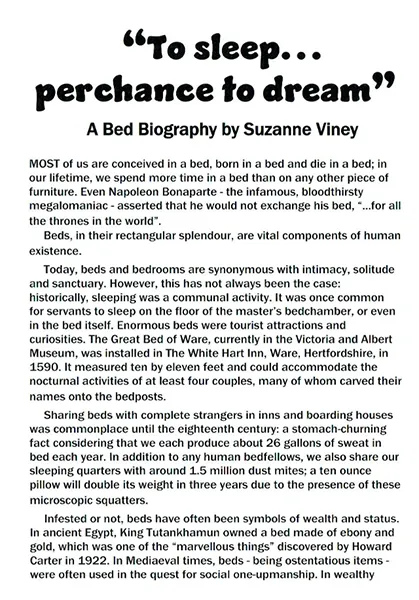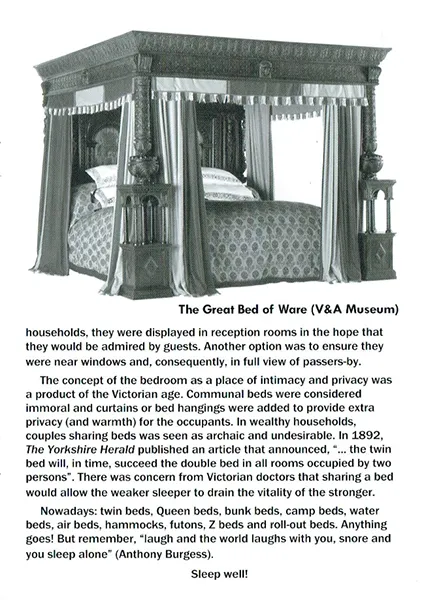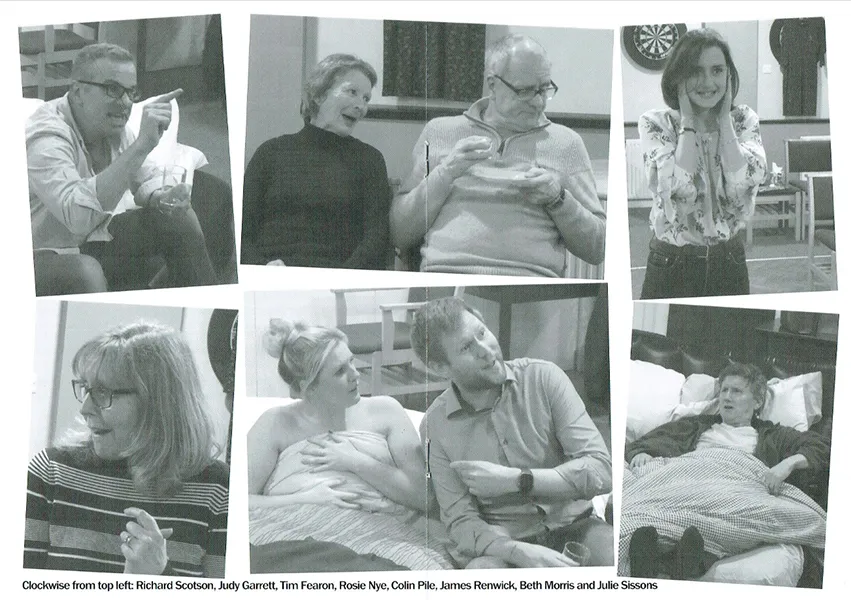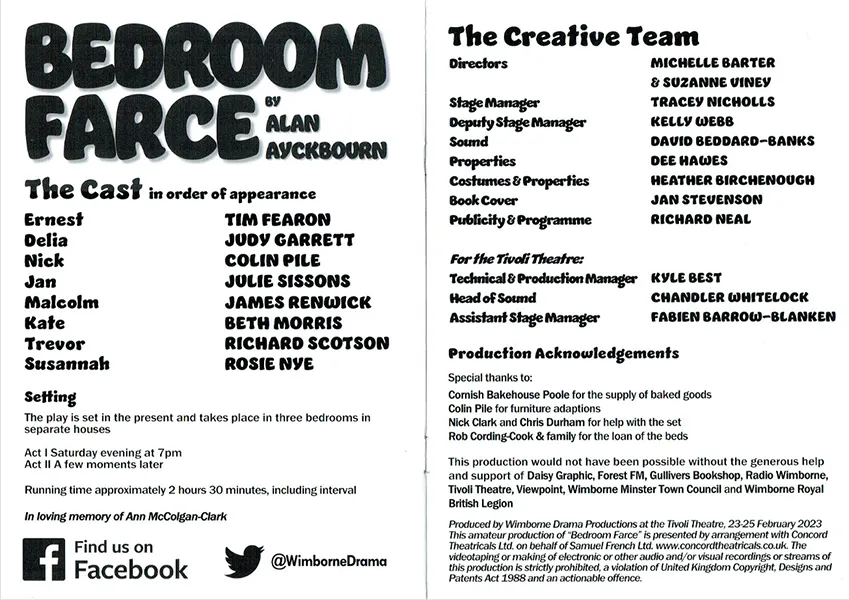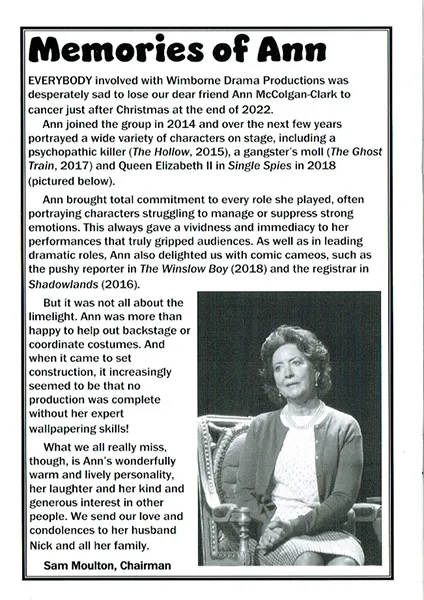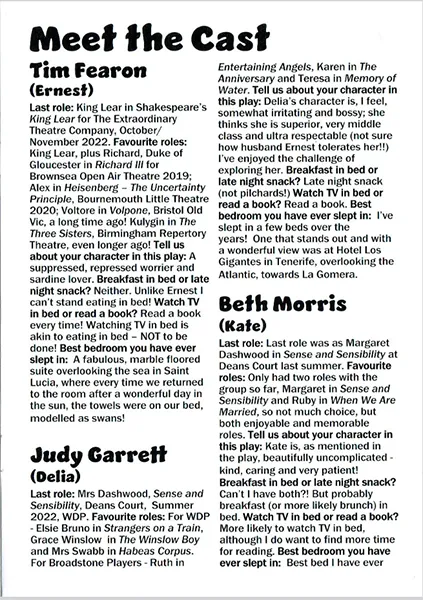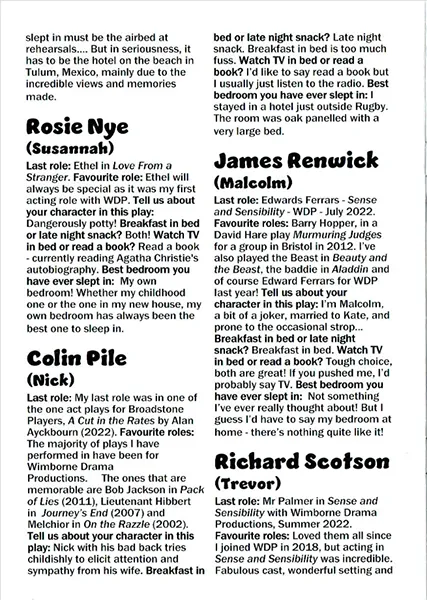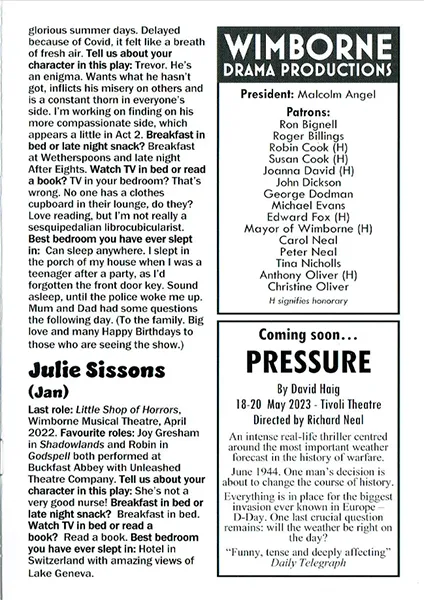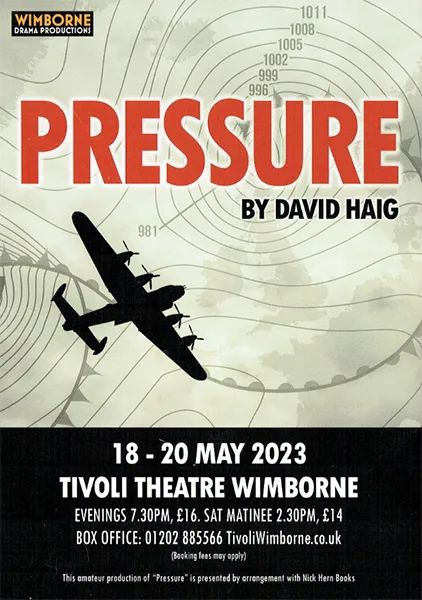 ---