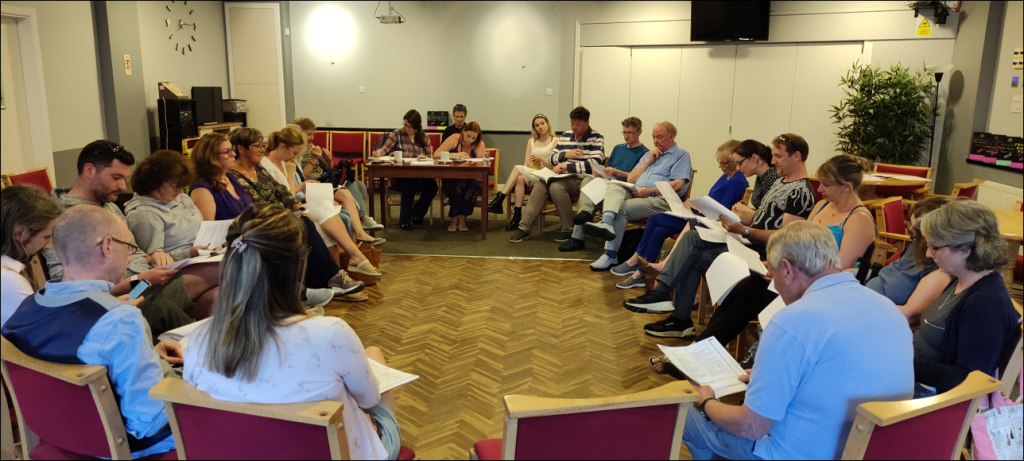 We stage three productions (comedies, dramas and thrillers) each year – usually at the wonderful art deco Tivoli Theatre in Wimborne. Every other year we stage an open air production in the summer at Deans Court. We always welcome new members, with or without previous experience. As well as those with a liking for acting or directing, people with a keen interest in the less glamorous, but equally valuable backstage roles (set construction, properties, make-up etc) are warmly welcomed into the group.
The group meets at 7.30pm on the last Wednesday of the month (but not December to discuss forthcoming productions, events and other business matters. Rehearsals take place on Monday and Wednesday evenings.
A year's membership is only £35. For further details please visit our contact us page and select "Membership" in the drop down.
A Brief History
Wimborne Drama Productions was formed in November 1928 by a group of enthusiasts – led by Leonard 'Motty' Mottram, an English teacher at the Queen Elizabeth Grammar School – who called themselves 'The Wimborne Dramatic Society'. There were other drama groups in the town before this date no doubt, but no official record of them has been found.
The society's original purpose was to be a social club for theatre-goers, but in 1932 it took the bold step of actually staging a production – and it picked an ambitious first project. Ambrose Applejohn's Adventure had a cast of over forty people and the few remaining photographs show it was a rather stylish affair.
After the War the group merged with Wimborne Operatic Society. This relationship was short lived due to the high cost of staging operatic productions (which ate into the profits made by the dramatic society!) and a sad but amiable parting took place. The dramatic society re-emerged as Wimborne Drama Club.
Early plays were staged at the Women's Institute Hall until it was demolished, and then at Church House. Fire restrictions caused this venue to be abandoned in favour of "the new secondary modern school at Pamphill" (now QE). When the Allendale Centre opened in 1970, the club at last had a permanent home. There we remained for the next twenty-four years.
In 1994 came a major step forward when the Tivoli Theatre reopened. Wimborne Drama Productions was invited to become the resident amateur company and we haven't looked back since!