Written By
---
J.B. Priestley
Where and When
---
17th – 19th February 2022 @ The Tivoli Theatre, Wimborne
The Plot
---
Priestley's 1938 British farce begins when a group of old friends, all married on the same day in the same chapel, gathers at the Helliwells' home to celebrate their silver anniversary. When they discover that they are not legally married, each couple initially reacts with proper Victorian horror "what will the neighbours think?" But soon all three couples find themselves re-evaluating their marriages.
Cast
---
Ruby Birtle – Bethan Morris / Tracey Nicholls*
Gerald Forbes – Rob Cording-Cook
Mrs Northrop – Chrissie Neal
Nancy Holmes – Jo Eva Edington*
Fred Dyson – Richard Scotson
Henry Ormonroyd – Chris Durham
Alderman Joseph Helliwell – Gary Paine
Maria Helliwell – Beverley Beck
Councillor Albert Parker – Tony Feltham
Annie Parker – Boo Feltham
Herbert Soppitt – Colin Pile
Clara Soppitt – Tracie Billington-Beardsley
Lottie Grady – Michelle Barter
Rev. Clement Mercer – Simon Jackson
*due to illness, the role of Ruby Birtle was played by Tracey Nicholls during the run of the play and the role of Nancy Holmes was cut.
Creative Team
---
Director – Richard Neal
Stage Manager – Tracey Nicholls
Set Designer – Chris Durham
ASMs and Properties – Dee Hawes and Suzanne Viney
Hair and Wardrobe – Chrissie Neal and Sally Weber
Book Cover – Heather Birchenough
Music and Sound – Sam Moulton
Publicity & Programme – Richard Neal
For the Tivoli Theatre
Technical and Production Manager – Kyle Best
Head of Sound – Chandler Whitelock
*Costumes supplied by Hierarchy Costumes
Preview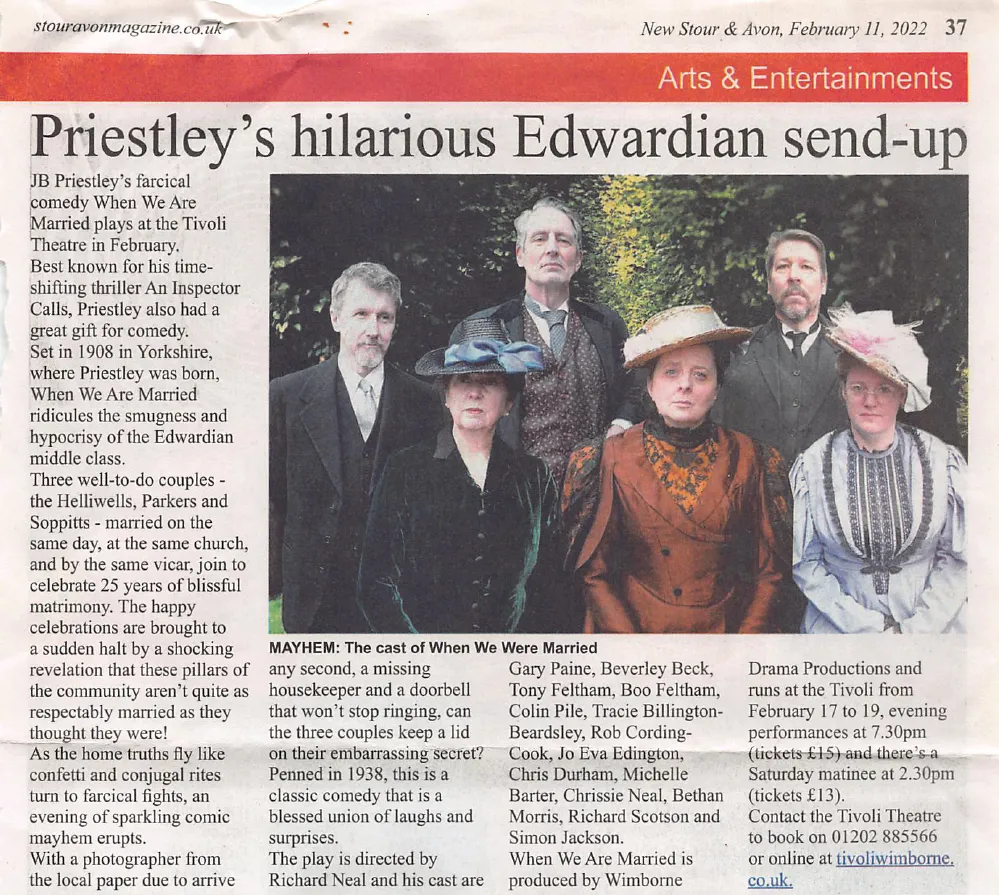 Gallery
---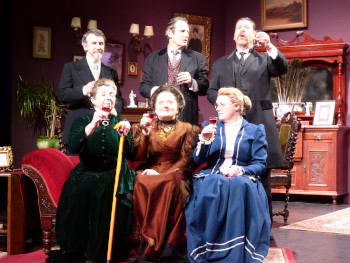 Reviews
---
What a great comedy this is. The play is set in 1908, where the plot follows three Yorkshire couples who are about to celebrate their 25th Wedding Anniversaries, only to find out that their marriage vows may have been invalidated by the young vicar who officiated their ceremony.
What a treat! From beginning to end it was enthralling, funny and captivating. The three couples were so aptly matched and complemented each other throughout, you really felt that they had all been married at least 25 years. They came across as very experienced thespians whose professionalism was evident from start to finish.
You can feel the chemistry between Tony Feltham and Boo Feltham as Councillor Albert Parker and Annie Parker. The shift in power when Annie finally tells him he is stuffy, stingy, pompous and overpowering, this was superbly handled by Boo and had the audience in fits of laughter.
I particularly loved the long-suffering Herbert Soppitt (played by Colin Pile), a very hen-pecked husband who then put Clara Soppitt (Tracie Billington-Beardsley) in her place, again hilarious and so well executed.
Maria Helliwell, played by Beverley Beck, had complete control of her role as 'an Alderman's wife' and I didn't miss a word of her diction, it was so clear, she commanded the stage throughout her performance. Alderman Joseph Helliwell made it clear he was 'Lord of the Manor' and definitely the leader of his little group, so very convincing.
Another of my favourites was Ruby Birtle – the Helliwell's maid, played at the last minute (due to COVID) by Tracey Nicholls. She stepped into this role superbly, I am amazed she knew as many of her lines as she did. Her mannerisms and facial expressions were priceless when she delivered her lines. Subtle or discreet she was not, rather very blunt and to the point. Well done, Tracey, you did a great job.
Chrissie Neal (Mrs Northrop) gave another excellent comedy performance. I loved her Yorkshire accent; she was able to deliver her lines to give the most impact to the audience and we certainly laughed.
Rob Cording-Cook as Gerald Forbes the organist in the church, Simon Jackson (Rev Clement Mercer) and Richard Scotson as Fred Dyson the reporter, all played their parts well but were overshadowed by the dialogue of the other roles on stage. Nevertheless, they added value to the overall performance.
The prize for the best role goes to Chris Durham, who played Henry Ormonroyd, the tipsy photographer. He charges through the doorway with his extended tripod and drunkenly careers around the stage, very funny and totally convincing.
Lottie Grady (played by Michelle Barter), forever the optimist hoping to capitalise on the fact that Alderman Helliwell may not be married, looks and acts the part but her interaction with Henry brings her down to earth and she becomes vulnerable and very likeable.
The set, lighting and scenery were all as they should be and the Production Team did a great job executing to this high standard. The costumes were all in period and I thoroughly enjoyed every aspect of the show.
Well done!
---
It was the talk of Wimborne with the buzz being 'did you see this brilliant play at the Tivoli?'
By J B Priestley it tackled the smugness and hypocrisy of the Edwardian upper middle class in a comical way, telling the story of three couples, who gathered together to celebrate their weddings 25 years previously – who find they may not have been legally married after all!
The production had not been without its problems, with illness forcing one minor character to be dropped and Tracey Nicholls, the stage manager having to take on the part of servant Ruby at the 11th hour.
However, although Tracey had the script in her hand she barely needed it, putting in the sort of sterling performance we all expect from her – and like the rest of the cast – her strong Yorkshire accent was maintained throughout.
This was a very experienced cast – and it really showed – with many of the actors having graced the Tivoli stage on many occasions.
Dealing with their performances in order of appearance – because they were all so good – Rob Cording-Cook as organist Gerald was very laid back as the only southerner in the cast.
Chrissie Neal embodied the disgruntled servant Mrs Northrop with laconic humour, whilst Richard Scotson made the most of his smaller role at Fred the reporter.
Chris Durham had his work cut out to maintain the drunken photographer Henry but he maintained the persona throughout.
Gary Paine's expressive face said it all as the bumptious Alderman Helliwell, teaming well with Beverley Beck as his wife Maria.
Tony Feltham always gets under the skin of his roles and is one of the best local character actors. He clearly enjoyed playing the all too wordy Cllr Parker, with his real wife Boo as the long-suffering Annie Parker.
Colin Pile encapsulated the seemingly meek Herbert, making a brilliant team with his imperious wife Clara – the sort of woman you certainly wouldn't dare to cross – played with much skill by Tracie Billington-Beardsley.
And to add to the mix was Lottie as a lady who 'knew' all three husbands, a part in the capable hands of Michelle Barter with Simon Jackson sealing the story as Rev Clement Mercer.
Many congratulations to director Richard Neal and his team, with a special mention for set designer Chris Durham who made the audience feel as if they had gone back to the beginning of the 20th century.
Programme
---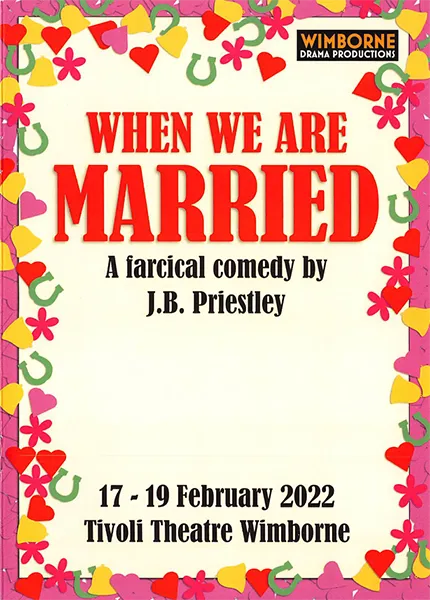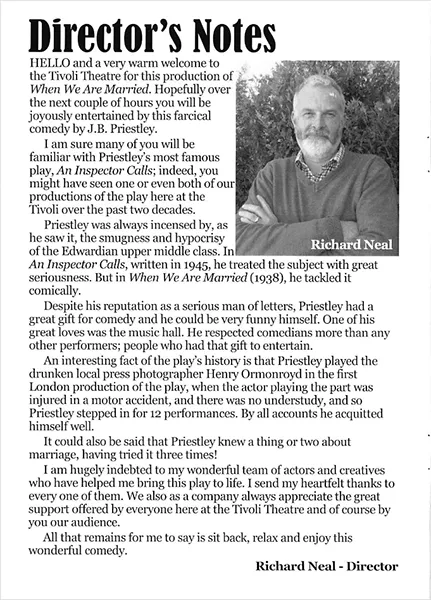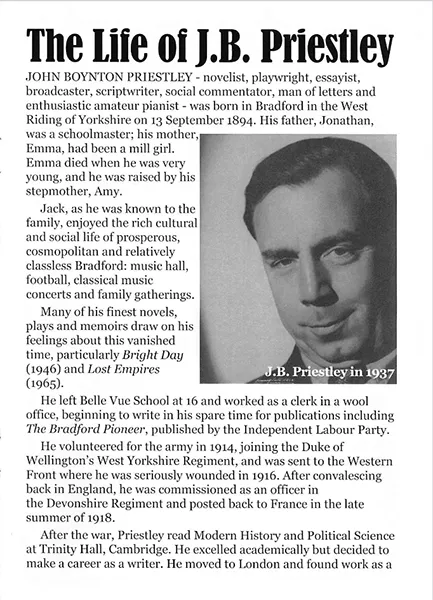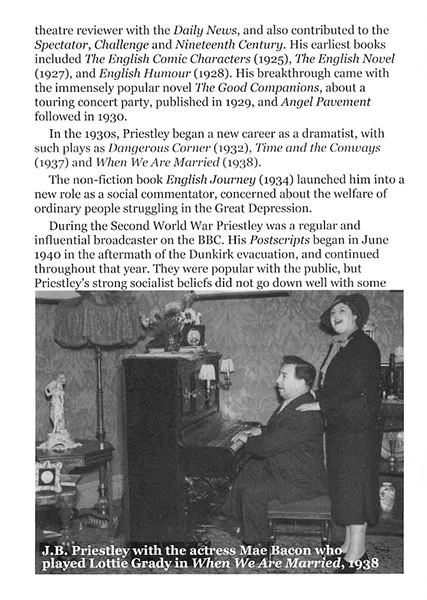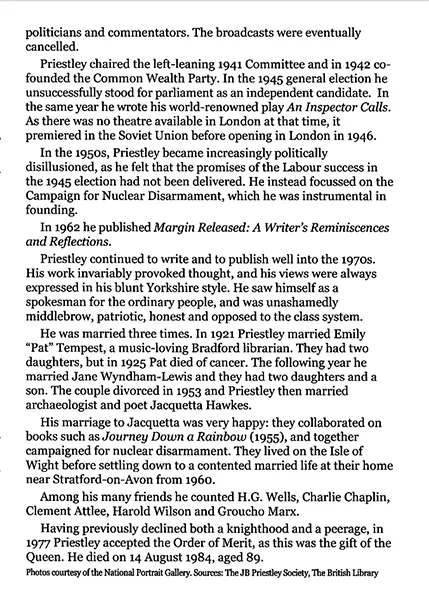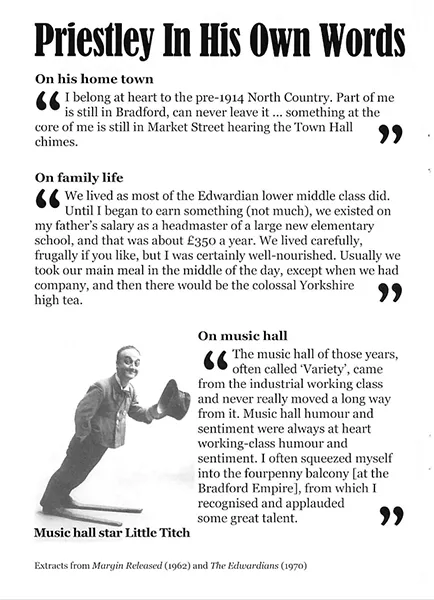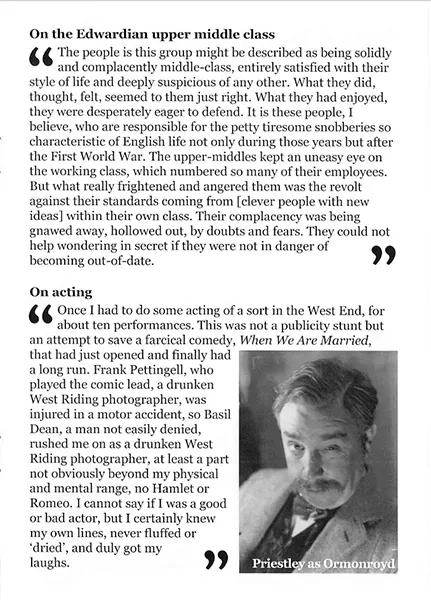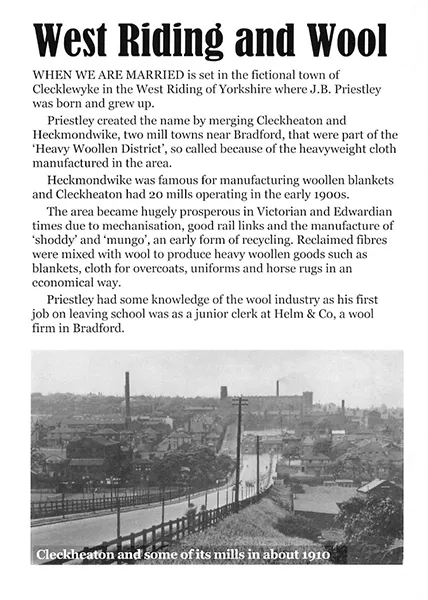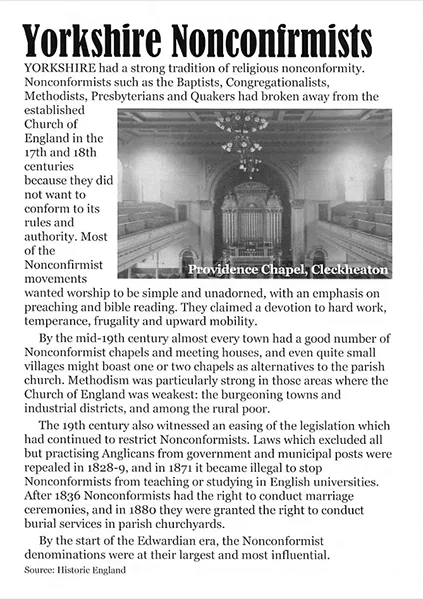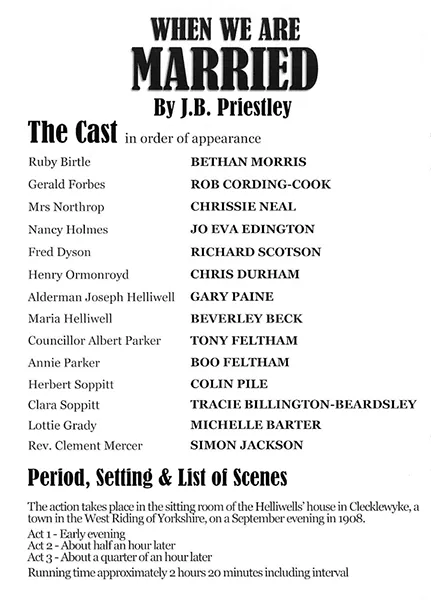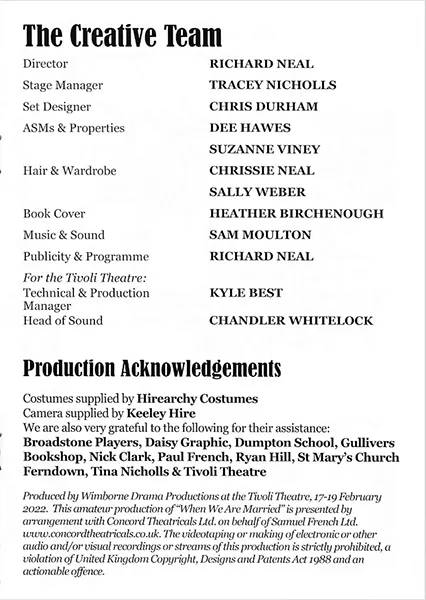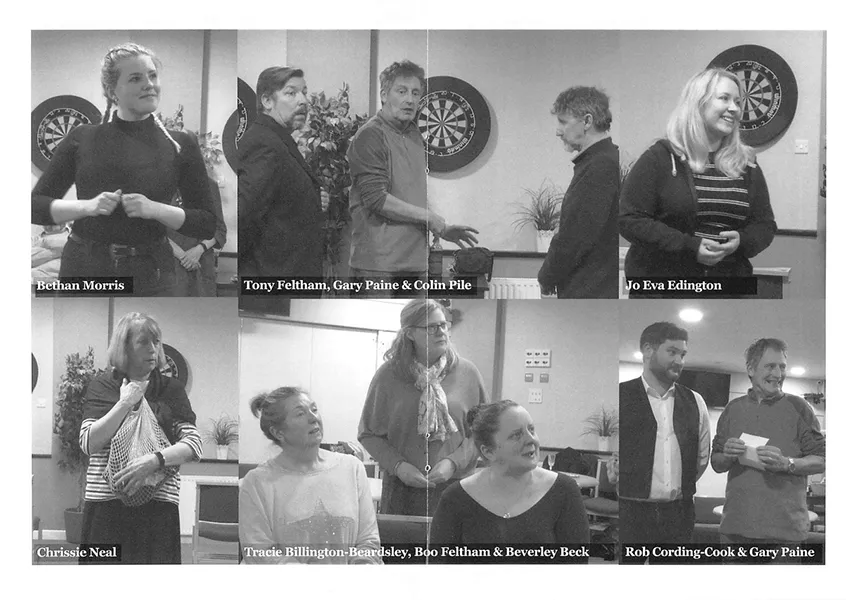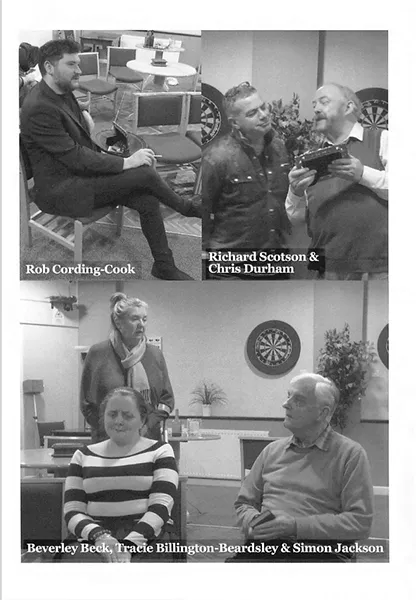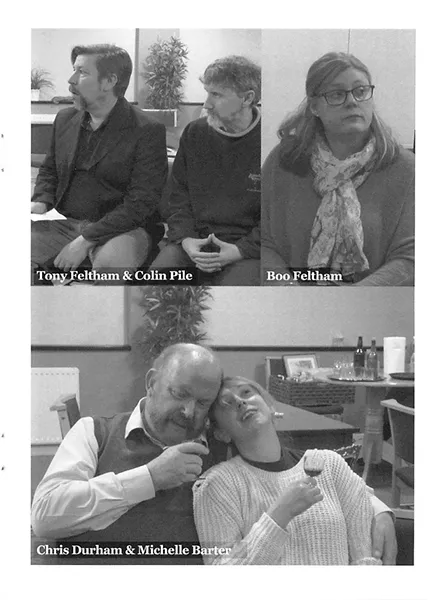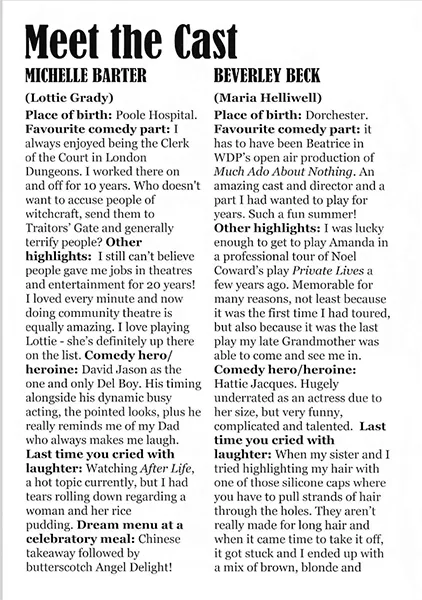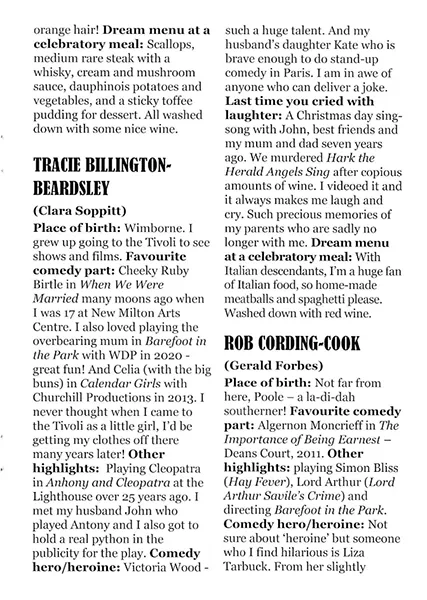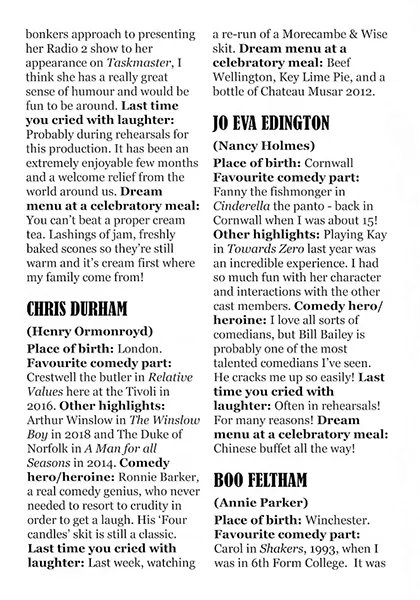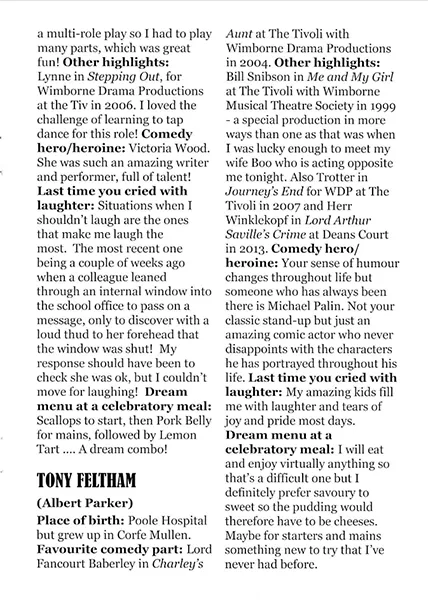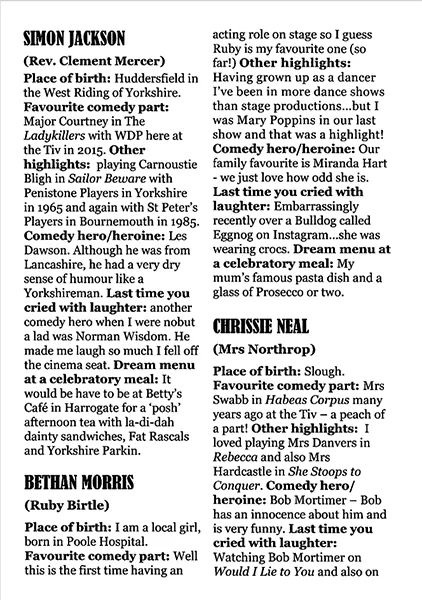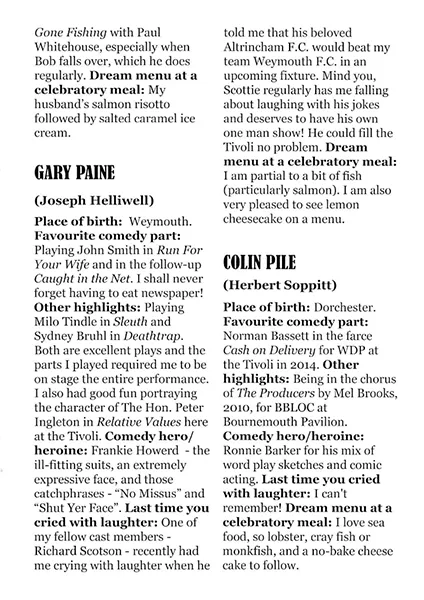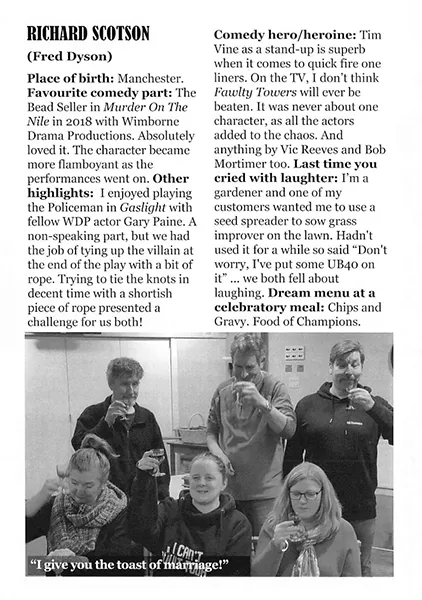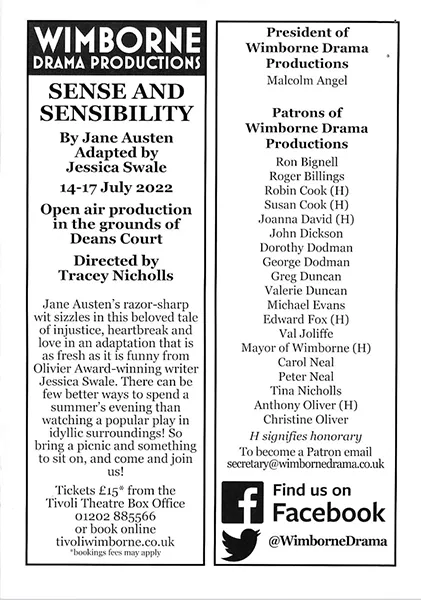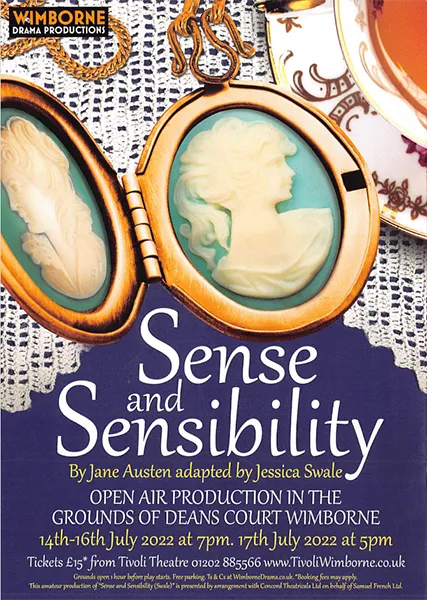 ---