Written By
---
Oliver Goldsmith
Where and When
---
27th – 30th June 2019 @ Deans Court, Wimborne
The Plot
---
One of the eighteenth-century's most enduring comedies, She Stoops to Conquer takes a comedic, often farcical, look at the behaviour and marital expectations of the upper classes in England at this time. The play centres around the desire of Hardcastle, a wealthy landowner in the country, for his daughter Kate to marry the well-educated Charles Marlow. Together with Marlow's father, Sir Charles, they arrange for the younger Marlow to visit the Hardcastle's house and court Kate. However Kate is less than impressed when she finds out that Charles is extremely shy and reserved around ladies, despite his otherwise strong and respectable character. She therefore vows to herself that she could never marry him. Before Charles and his friend, George Hastings, can arrive at the house, they are waylaid by Mr. Hardcastle's stepson at the local alehouse. A mischievous joker, Tony Lumpkin persuades them that the Hardcastle's house is, in fact, the local inn. Thus, when Marlow and Hastings arrive, Marlow treats the Hardcastle family with impudence and disrespect, falsely believing them to be servants there. In order to get to the bottom of his true character, Kate disguises herself as a maid and comedy ensues as Marlow makes love to the "maid" and disregards her father.
Meanwhile, George Hastings is thrilled to find his true love, Constance Neville, living at the Hardcastle's house. Through the scheming of Mrs. Hardcastle, she is due to marry Tony, even though they can't stand each other. Realizing that this is his opportunity to get out of the marriage, Tony helps Constance to retrieve her inheritance and gets his mother out of the way by dumping her in a local horsepond! Finally, as Marlow's father arrives, all is put right and Charles Marlow is mortified by his behavior. Forgiven by all, the two couples find happiness with each other, and Tony successfully gains his rightful inheritance without an unwanted engagement.
Cast
---
At Liberty Hall, the home of the Hardcastles
Hardcastle – Paul Dodman
Mrs Hardcastle, his wife – Chrissie Neal
Kate Hardcastle, Hardcastle's daughter – Michelle Barter
Tony Lumpkin, Mrs Hardcastle's son – James Bourner
Constance Neville, Mrs Hardcastle's niece – Bethany Barfoot
Diggory, head servant – Tony Feltham
Thomas, servant – David Pile
Roger, servant – Simon Jackson
Pimple, maid – JUDY GARRETT
Maud, maid – JAN STEVENSON
At The Three Pigeons
Stingo, the Landlord – Russ Guillaume
Tom Twist – Colin Pile
Jack Slang – Simon Jackson
Dick Muggins – Tony Feltham
From London
Charles Marlow – Sam Moulton
George Hastings – Rob Cording-Cook
Sir Charles Marlow , Marlow's father – Gary Paine
Jeremy, servant to Marlow – Colin Pile
Creative Team
---
Director – Richard Neal
Set Designer – Chris Durham
Assistant Director / Book Cover – Ann McColgan-Clark
Set Contruction – Chris Durham, Colin Pile, Ann McColgan-Clark and Members of the Company
ASMs / Properties – Moira Hawey and Helen Young
ASM – Chris Durham
Costumes Coordinator – Chrissie Neal
Sound & Lighting – Colin Pile and Tracey Nicholls
Song Arrangement – Sam Moulton
Publicity and Programme – Richard Neal
Front of House Coordinator – Tony Parkinson
Gallery
---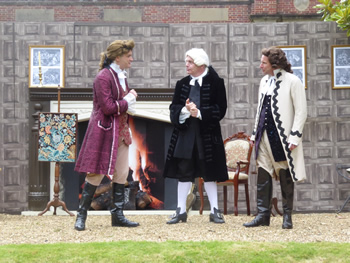 Reviews
---
Philip & Julie McStraw – Scene One
Surely there can be nothing better, nor more quintessentially British, than open air theatre in the summertime – especially when accompanied by fine weather, a picnic hamper and long daylight hours – although theatre goers in this part of the world know that it is always sensible to apply some insect repellent in place of eau de cologne, as a precautionary measure!
Wimborne Drama Productions (WDP) has a rich history of staging amateur theatre stretching back to 1932, with an annual calendar normally comprising three plays. For the sixth time, this includes an outdoor production in the picturesque grounds and lakeside setting of historic Deans Court, the lovely home of the Hanham family.
When first performed in 1773, Oliver Goldsmith's witty and warm-hearted comedy She Stoops To Conquer bucked the then fashion for sentimental drama, where tears outweighed laughter. The play is renowned for celebrating laughter and also for honouring the honest virtues of country folk and their simple ways over the snobbery of the fashionable town society – perhaps something that still resonates today! She Stoops To Conquer is now considered to be one of the great farcical comedies of all time and a milestone for 18th century British Theatre and it is an absolute pleasure and privilege to see She Stoops To Conquer being performed locally by a talented company of actors in such delightful surroundings.
The plot revolves around contrived deceptions: Hardcastle, a country squire, is expecting the arrival of Marlow, the son of an aristocratic friend he'd like to marry his daughter Kate. However, his mischievous stepson, Tony Lumpkin, convinces Marlow that Hardcastle is nothing other than an uppity innkeeper, with illusions of grandeur, and Kate is a barmaid.
It transpires that Marlow is painfully shy with women of his own class, but much more forward and something of a flirt among working-class girls similar to 'plain' Kate. Despite Hardcastle's obvious indignation, Kate's liking for Marlow gathers pace as she conceals her true identity and 'stoops to conquer'.
Added to the confusion is a subplot in which Marlow's friend Hastings is secretly engaged to be married to Kate's cousin Constance, and they plan to elope. Standing in their way is Constance's aunt and guardian, the vain Mrs Hardcastle, whose plan is for her niece to marry her indulged son Tony Lumpkin (from her first marriage), so that an inheritance of valuable jewels stays in the family.
Often with open air productions the staging can be a little sparse with much left to the imagination of the audience, but the WDP production team have managed to build a first-rate period set to give the appearance of the drawing room of a manor house. The clever use of mobile screens converts the stage to the inside of a Public House and enables outdoor scenes to be presented with a fair degree of authenticity. The period costumes are historically accurate and fitting for each of the parts. The excellent sound system bellows out baroque music before the commencement of proceedings and during the interval, helping to create the right ambience for the play. The actors wear individual microphones which, even in breezy conditions, enables all of the dialogue to be heard.
With WDP's pedigree, it is not surprising to find that the ensemble cast of some 18 players have an impressive record of performance roles between them and everyone delivers their lines with real proficiency and acting skill. Timing is all important in any comedy and the cast convey the funny lines with aplomb, prompting regular ripples of genuine laughter and enjoyment from the audience. As with all ensemble productions, it can be unfair to single out any one of the actors for particular mention and praise, but it would be equally unfair to not at least mention the performers of the lead roles: Paul Dodman (Squire Hardcastle), Chrissie Neal (Mrs Hardcastle), Michelle Barter (Kate Hardcastle), Bethany Barfoot (Constance Neville), James Bourner (Tony Lumpkin), Sam Moulton (Charles Marlow) and Rob Cording-Cook (George Hastings). Each and every one of the supporting cast are also terrific. There are simply no weak performances here – this is amateur dramatics at its best.
During each summer there are countless open air productions of Shakespeare's plays being performed throughout the country but, as wonderful as many of them may be, She Stoops To Conquer is a refreshing alternative and is guaranteed to raise a smile.
---
When it comes to putting on a brilliant performance in the most glorious of settings, Wimborne Drama Productions have nailed it.
And the good news is that instead of having to wait another two years for the next one – they have promised to be back at the venue in 2020.
The weather was extremely kind from Thursday 27 to Sunday 30 June giving the audience a chance to bask in warmth in more ways than one.The comedy by Oliver Goldsmith, first performed in London I773 raises questions of class and snobbery – but in a good way.
Paul Dodman was very likeable as Mr Hardcastle, a wealthy countryman, who was very aware of his home's inadequacies as it was to be mistaken for a country pub! You can always be sure that a part is in capable hands with Chrissie Neal, who encapsulated the status conscious wife and mother, Mrs Hardcastle.The couple wanted their daughter Kate (Michelle Barter) to meet Marlow, the son of a rich Londoner in the hope they would marry.
Michelle virtually stole the show in the Steel Magnolias in Broadstone earlier this year, and once again she put in a stunning performance. As Marlow – played with skill by Sam Moulton – prefers lower class women, she had to affect an alter ego, to amusing effect.
James Bourner clearly had a lot of fun as Kate's dissolute step-brother Tony Lumpkin who enjoyed more than a glass or two with Tom Twist (Colin Pile), Jack Slang (Simon Jackson) and Dick Muggins (Tony Feltham) at the Three Pigeons.
When it comes to cameo performances, you would have to go a long way to better the five servants – Diggory (Tony Feltham), Thomas (David Pile) Roger (Simon Jackson), Pimple (Judy Garrett) and Maud (Jane Stevenson). Their timing was perfect.
Rob Cording-Cook as George Hastings and Bethany Barfoot as Constance, gelled well as would be lovers, with well-rounded performances by Gary Paine as Sir Charles Marlow and Russ Guillaume as Stingo the landlord.
A triumph for director Richard Neal and his creative team.
---
Programme
---