Written By
---
Neil Simon
Where and When
---
20th – 22nd February 2020 @ The Tivoli Theatre, Wimborne
The Plot
---
Barefoot in the Park is one of the most beloved comedies of Neil Simon. Newlyweds Corie and Paul Bratter are over the moon to begin their life together in their new apartment in Manhattan. It may be small and a six-flight climb, the heating may be busted and snow may be falling through the skylight, but nothing can quash their newlywed bliss. Paul is a straight-laced lawyer and Corie a romantic free-spirit; nevertheless, opposites attract and the two are wild about each other. Corie decides to set her conservative widowed mother up with their eccentric, bohemian neighbour. A wild night ensues, one that highlights just how different Corie and Paul are. The young couple must learn how to accept and embrace their differences as they learn that marriage is no easy walk in the park.
Cast
---
Corie Bratter – Jemma Cable
Telephone Man – Colin Pile
Delivery Man – Simon Jackson
Paul Bratter – David Beddard
Mrs Banks – Tracie Billington-Beardsley
Victor Velasco – Richard Neal
Creative Team
---
Director -Rob Cording-Cook
Designer – Chris Durham
Gallery
---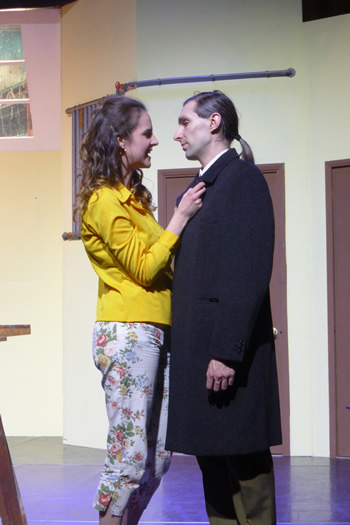 Reviews
---
From the moment Corie Bratter (Jemma Cable) bounced onto the stage, we knew we were in for a lively production.
Jemma is a regular performer with Wimborne Musical Theatre, but this is her first role as a leading lady. And how ever high her bar was, she certainly smashes it. She has to go through the whole gamut of emotions from excitement, which is literally bubbling over, to immature despair.
Team her with husband of six days, Paul (David Beddard), who is conservative and somewhat uptight and conflict is sure to follow. This is not least because his character cannot understand why his wife has chosen an apartment up six flights of stairs, and with a hole in the skylight letting in the worst that a New York winter can throw at them. His bemused and often deadpan expressions add to the humour in this comedy by Neil Simon.
Tracie Billington-Beardsley has performed with many other companies, but this is her first time with this company – and it is a splendid debut as Mrs Banks, Corrie's mother. An accomplished actress, she adds a great deal of humour to this part which requires her to go from somewhat over-bearing to frivolous.
Richard Neal has played a wide variety of parts in 20 productions at the Tivoli, and he always gets under the skin of his characters. Clearly he enjoys playing the bohemian, energetic, devil-may-care Victor Velasco who lives in the floor above the Bratters.
The cameo players also add a good deal of humour, as they arrive in a state beyond exhaustion after climbing the stairs – namely Colin Pile as the telephone engineer, and Simon Jackson as the delivery man.
A directorial debut for Rob Cording-Cook, he should reflect on the success of this production which received rousing applause from the first night audience.
---
A working-class Jewish boy from the Bronx and a middle-class Englishman educated at Haileybury can't have much in common, can they? Yet Neil Simon and Alan Ayckbourn share the gift of taking ordinary people in a domestic setting and using them to reveal eternal truths about the human condition – the weaknesses, the passions and the fears which we all experience and which many of us hate to reveal. What makes both writers geniuses is that they also write superbly crafted comedies which can be enjoyed just for their stylishness and wit.
Proof for such high-flown claims can be found in, for instance, Ayckbourn's Norman Conquests, and there is no better example in Simon's work than his 1963 play, Barefoot in the Park. It tells of Corie and Paul, fresh from their six-day honeymoon, who are settling into their new flat on the Upper East Side, but also (like all newly-weds in the early 1960s, when 'try before you buy' had not yet become the norm) into the novelty of intimacy with all its challenges and compromises as well as its joys.
Apart from a lovely cameo from Colin Pile as 'Telephone Man', it is basically a four-hander. The actress playing Corie has a heavy responsibility as she is onstage almost throughout, but Jemma Cable rises to it magnificently. One can well understand why Paul fell in love with such a young, vibrant, ingenuous free spirit. She puts the character across not only through her excited breeziness but with a subtle use of gestures and facial expressions. Perhaps she is marginally less convincing in Act 2, when she has to show greater dramatic depth as someone beginning to discover what being married really means ("Give up a little of you for him" is her mother's wise advice), but overall it is a lovely performance.
By contrast, David Beddard as Paul comes into his own in Act 2: he is excellent in his reactions when it looks as though everything is falling apart, and he is key to the terrific pace sustained throughout the act. In Act 1, although he has to establish himself as a rather sardonic, dry character, he should also convey a deep affection for Corie, an amused tolerance for her girlish excitement and an underlying humour, but these qualities don't really come through.
Corie's mother is played by Tracie Billington-Beardsley. It is her first role for Wimborne Drama Productions, but what an asset they have acquired. The character is a mass of contradictions – staid yet flighty, controlling yet vulnerable, well-meaning yet tactless – but as played by Tracie she is entirely believable. It is a joyously subtle interpretation: understated at the right moments and slightly over the top at other moments.
Another contrast: whilst Tracie is a newcomer, Richard Neal, playing Victor Velasco, is one of the company's longest-serving stalwarts. He describes Velasco in his programme note as "charming, colourful and eccentric" and he brings out all these characteristics in a polished, self-assured performance.
Simon's witty script has survived 55 years well and provides several laugh-out-loud moments (even if the "five flights of stairs" joke wears thin). Rob Cording-Cook's debut as a director holds promise of good things to come. And the four actors are at the top of their game. Combine that lot and you have a production that represents the very best in local amateur theatre. Put off whatever else you were planning to do to catch one of the remaining performances: 21 February at 7.30pm and 22 February at 2.30pm and 7.30pm.
---