Wimborne Drama Productions are a renowned, award-winning amateur theatre company producing plays at the Tivoli Theatre in Wimborne in Dorset. We also perform open air summer plays in Wimborne.
Our Next Production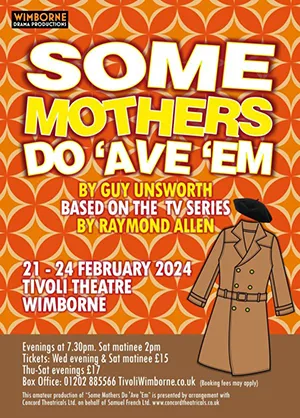 Our next production will be Some Mothers Do 'Ave 'Em from 21st to 24th February 2024 at The Tivoli Theatre, Wimborne
Hilarious mishaps and DIY disasters bring the house down, quite literally, as the lovable accident-prone Frank Spencer and his long-suffering wife Betty create comic mayhem.
Based on the 1970s classic TV comedy by Raymond Allen and written by the award-winning Guy Unsworth, Some Mothers Do 'Ave 'Em is the ultimate feel-good night out. Quite Frank-ly, you'd be a fool to miss it!